State of AI Report 2022
The new state of AI report is out. The blog post lists my key takeaways.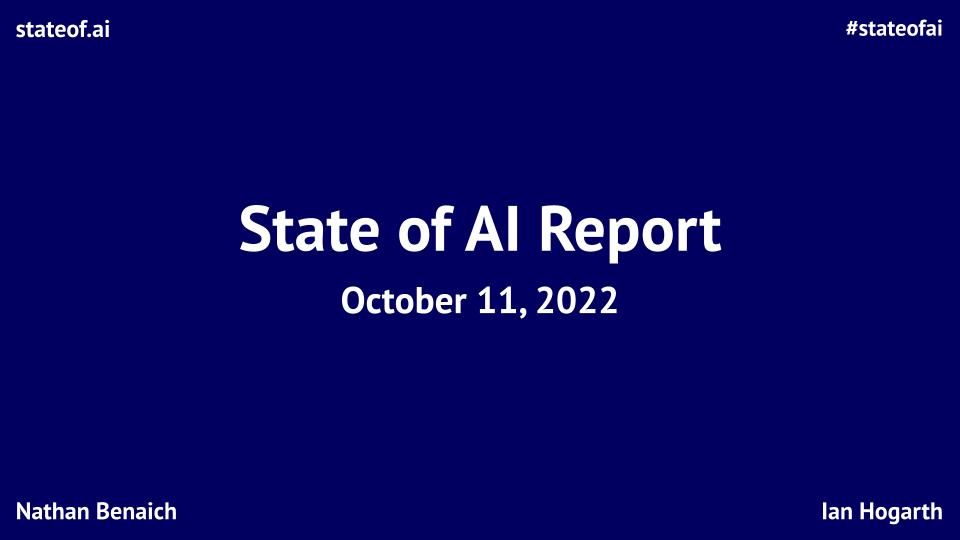 The new state of AI report is out. Here are my key takeaways.

AI empowers physical science, biology, material sciences and drug discovery.
Three eras of computing in machine learning: The pre-deep learning era, the deep learning era and the large-scale era.
Diffusion models take over text-to-image generation.
Landmark models have been implemented/cloned/improved by the open-source community.
Chinese papers focus more on autonomy, object detection, tracking, scene understanding, action and speaker recognition.
U.S. papers focus more on question answering, text classification, text generation and speech recognition.
U.S-based authors publish more AI papers than China, but Chinese institutions' output grows faster. Germany's growth rate disappoints.
The China-U.S. AI research paper gap explodes if Chinese-language databases are included.
Hyperscalers and AI compute providers teaming up with AI research laboratories.
Companies build more extensive computing systems than national supercomputing centres.
DeepMind and OpenAI alums from new startups; Meta disbands its core AI Group.
AI coding assistants are deployed fast.
AI-first drug discovery companies have 18 assets in clinical trials.
The first regulatory approval for an autonomous AI-first medical imaging diagnostic was achieved.
Enterprise software is the most invested category globally, while robotics captures the largest share of VC investment into AI.
A widening computing chasm separates industry from academia in extensive models of AI.
AI in defence gathers momentum; Ukraine's homegrown geospatial intelligence software is a sign of coming things.
The U.S lags in new fab projects, which take years to build. China's and Taiwan's fabs take roughly 650 days to make; the U.S. builds fabs 42% slower today than they did 30 years ago.
AI researchers increasingly believe that AI safety is a severe concern and that AI safety is attracting more talent.
You can download the report with the following link:
https://www.stateof.ai/2022-report-launch.html